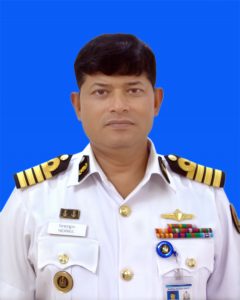 CAPTAIN M NEAMUL HASAN (L),BN
Principal
Bangladesh Navy College Dhaka
Capt. M Neamul Hasan was commissioned in Bangladesh Navy in Electrical Branch on 01 July 1990.After obtaining his competency certificate, he was appointed onboard BNS TAWFIQ and thereafter onboard BNS NIRBHOY as Electrical Officer. He also served as Deputy Electrical Officer of BNS OSMAN and again reappointed as Electrical Officer of the same ship. He was a project member of Castle class offshore patrol vessel regeneration project and worked in A & P Tyne Shipyard in UK and on completion of the project, he brought BNS BIJOY (Ex HMS DUMBERTON CASTLE) from UK to Bangladesh as Electrical Officer.
He is an alumnus of BUET and did his graduation on Electrical and Electronic Engineering and masters on Communication Engineering. He also did his specialization on System Engineering Management Course (Weapon Engineering) in HMS COLLINGWOOD, UK.
His shore appointments include Instructor and OIC of Electrical School in BNS SHAHEED MOAZZAM, Instructor in the dept. of Electrical, Electronic and Communication Engineering in Military Institution of Science and Technology and DGM (W & E) in BN Dockyard. He worked in United Nations Mission in Liberia as Military Observer. He also served as Deputy Director of DNW&EE at Naval Headquarters. More so, He was Principal of Sylhet Cadet College. He commanded the Maintenance Wing of Naval Aviation as first Commanding Officer. He served as Director Technical Stores (DTS) at Naval Headquarters. He also served Armed Forces Division as Colonel Staff of Intelligence Directorate. Presently is appointed as Principal BN College, Dhaka.
He is widely travelled and visited UK, France, Germany, Italy, Norway, Cyprus, Turkey, Bulgaria, Morocco, Egypt, Saudi Arabia, Dubai, India, Sri Lanka, China, Japan, Malaysia, Indonesia, Ghana and Liberia.
Capt. M Neamul Hasan is married to Sharmin Sultana and they are blessed with One daughter and two sons. He plays golf, enjoys reading books and fond of swimming.